Home
Main content starts here, tab to start navigating
Slide 1 of 6
Slide 2 of 6
Slide 3 of 6
Slide 4 of 6
Slide 5 of 6
Slide 6 of 6
You deserve to start your day at Urban Egg.
Hours of Operation: Mon-Fri 7-2 | Sat-Sun 7-2:30
#weareurbanegg | #americasbestbreakfast
America's Best Breakfast
At Urban Egg, we will always strive to offer you America's Best Breakfast. The finest, locally sourced, honest ingredients. The best meats, cheeses, eggs and produce available combined with innovative and flavorful presentations. The highest quality roasted coffee and freshest juice drinks all served with genuine, sincere and authentic hospitality. Your best day starts at Urban Egg.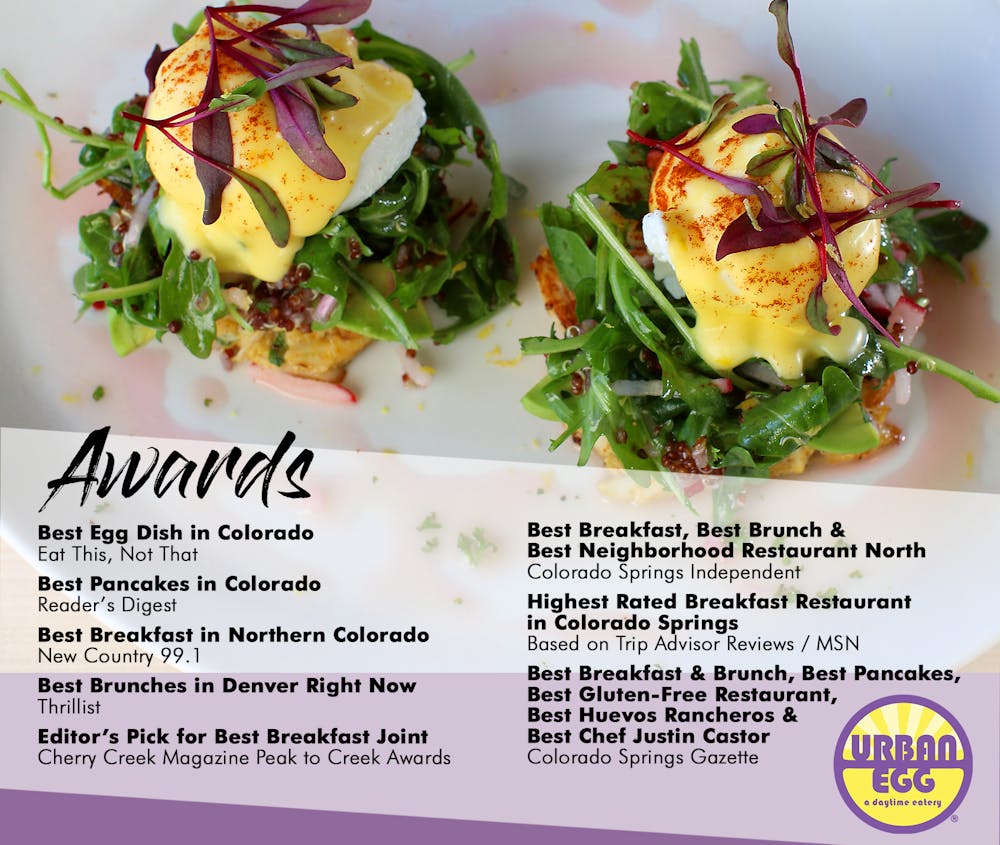 Urban Egg received top honors recently in the Gazette's Best of the Springs 2021. Here's what voters had to say...
Best Breakfast and Brunch: Urban Egg continues to be a favorite go-to for those in search of creative morning and midday eats. Voters said: "Love the food here. The Eggs Benedict is my favorite. So good!" and "We get breakfast here every Sunday. Great service and delicious food. The corned beef hash is especially tasty."
Best Gluten-Free Restaurant: All the pancakes can be made gluten-free and there are several other dishes listed as gluten-free on the menu as well. Many other options can be requested as gluten-free, too. Voters said: "Great gluten-free breakfast" and "Great, great, great breakfast, wonderful service and a fun place to eat."
Best Huevos Rancheros: With plenty of breakfast and brunch options, Urban Egg's blue corn huevos rancheros stand out. Readers wrote: "Love their huevos!" and "Super interesting breakfast dishes. They even make oatmeal interesting."
Best Pancakes: Perhaps you want pancakes topped with sweet pineapple or inspired New York cheesecake. The "pancake bliss" secion of Urban Egg's menu won't disappoint. One reader said "Awesome breakfast selection and best pancakes."
Best Chef: Justin Castor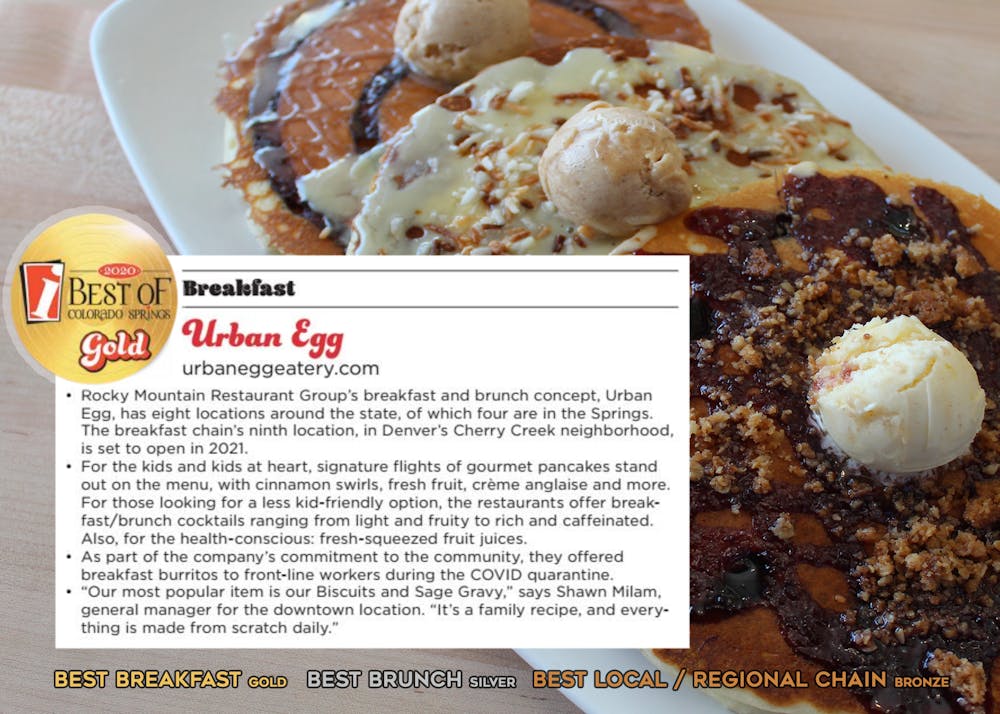 We Love Our Healthcare Heroes
At Urban Egg, it's always been important to us to be involved in our local community. We are committed to the greater good of our community and supported our brave healthcare workers on the front lines of the Coronavirus pandemic by providing meals of breakfast burritos.
For those who work in healthcare, thank you for the difference you are making every day. We appreciate you.
Proudly Partnering with Our Community: Swedish Medical Center, UC Health, Penrose Hospitals, Children's Hospital Colorado
Menu
Breakfast, lunch, let's do this ... dine in or carryout available! Our award-winning menu is made from scratch daily using Colorado-proud, organic ingredients when possible. Bring on the Gourmet Pancakes, Stuffed French Toast, Eggs Benedict Selections, Breakfast Quinoa, Lunch Salads & Sandwiches, Barista Favorites & more.
Mmmm...MENU!